Welcome to the
Olympic View Elementary Roller-hockey Team
(OVERT)
Website




About OVERT
In a nutshell, we're a bunch of people who live in and around Seattle and love to play hockey; this love manifests itself in our playing outdoors whenever the weather permits it!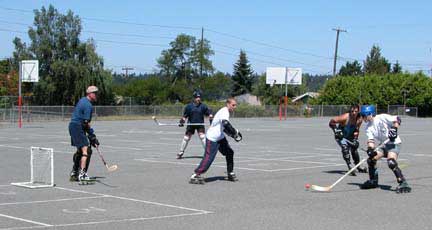 Scrimmage at our June 19, 2004 pick-up game
L-R: Mike, Chris, Clint, Manny and David.



Where/when does OVERT play?
As our name suggests, we play at Olympic View Elementary School (no, we're not an elementary school hockey team). This school has a large, flat playground that accomodates roller-hockey nicely. We typically play at 10:30 am Saturday mornings whenever the pavement is dry. Joining the e-mail list (see below) will let you find out whether a game is planned for any particular weekend. Olympic View is conveniently located just south of Northgate Mall off of I-5 in North Seattle. Plenty of parking is available.

Olympic View Elementary
504 NE 95 St
Seattle, WA 98115

Olympic View Website

Map to Olympic View Elementary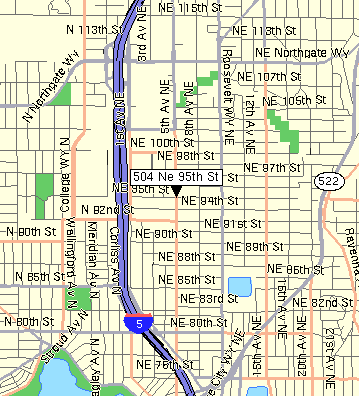 What should you expect from an OVERT game?
Typically, the first hour or so of the game is a scrimmage; the last half-hour to hour is usually played to a certain number of points. There are no set teams; they change every week depending on who shows up and on which players are wearing dark or light jerseys. Typical game turnout is between six and twelve people. With six, we play three-on-three. With twelve and up, we typically play four-on-four + goalie + one person on the bench, or five-on-five + goalie. When we have a bench, players entering the game from the bench rotate into goal first.

What are some of the "house rules" for OVERT games?
We play a no-contact (meaning only occasional unintentional contact) game, discourage slap-shots, and use a hockey ball. As we don't have blue lines, to reduce fast-breaks whenever a team gains possession of the ball, that team must make at least one pass prior to shooting on net. Because we don't have boards, whichever team sends the ball off of the playing surface loses possession. We don't play particular positions, and if there aren't enough players to rotate through the bench, winded players take turns in net. We don't enforce an offsides rule (nor do we have any type of penalty system).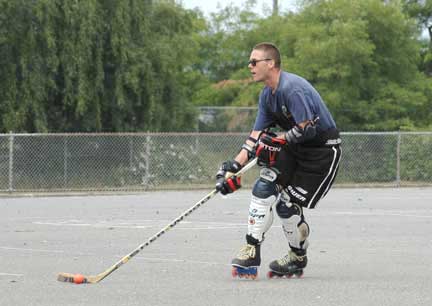 Carl deftly handles the hockey ball

How do I join OVERT?
Anybody of any level of skating proficiency is welcome to come play with OVERT! We maintain an e-mail list of players that want to be informed of upcoming hockey games. To join the list, visit http://sports.groups.yahoo.com/group/overthockey/. From this page, you will be able to find a link to request addition to our e-mail list. If you don't have a Yahoo! account, and don't want to sign up for a free account there, you can also send a blank e-mail to: overthockey-subscribe@yahoogroups.com. This will send a request to be added to the e-mail list.

Each week, if the weather forecast seems conducive to outdoor play, an e-mail will be sent out to the list declaring whether a game will take place. This decision is usually based on how many "regulars" declare at the previous week's game that they'll be able to make it the following week as well. This is to ensure that a game will indeed be able to take place, with a sufficient number of players, before we announce to the entire list that a game will indeed occur.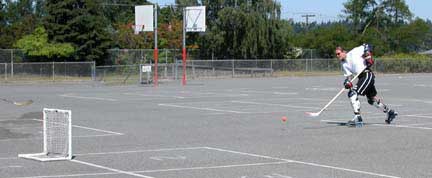 Carl takes a shot at an empty net

What do I need to play?
Skates and a hockey stick are required. We recommend bringing plenty of water and wearing either a dark or light shirt for ease of assigning teams. Any additional hockey equipment is highly recommended (shin guards, elbow pads, gloves, helmet).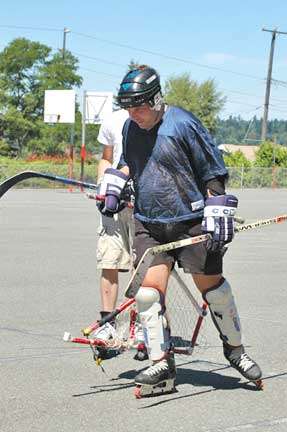 The game is over when the tie-breaking shot makes the goal collapse




What kinds of players are associated with OVERT?
We have all kinds of people currently playing with OVERT: all ages, all skill levels, people who learned to skate on ice first, people who play ice hockey in the winter and roller-hockey in the summer, people who live from Kent to Bothell, chefs and scientists, engineers and students, men and women, children and the elderly (well, sort of), normal-handed folk and southpaws, Canadians and Americans. You'll fit right in!

Last updated: 05/1/2010